It's Tuesday (Monday went quick)!
I couldn't do my usual update yesterday due to the fact that I to select a nice-sounding tango song, cut it down to be only one minute and thirty seconds long, and then create an easy choreography for it, all within about 4 hours.! The task took up my entire morning, so blogging was completely out of the question. I decided therefore that I would at least do a weekly update today, and try to catch up on things.
Last week was one the busiest weeks I've had since Christmas, and certainly the busiest and most profitable work week I've ever had. Now, a normal, average week for me is to have 8-10 hour-long private lessons, and then do the group classes 4 evening a week, and one social dance each week. It's productive, yet easy, and my brain and body doesn't feel like mush by the end of it.
What I'm feeling like at the moment
March Madness now has a whole new meaning to it. The first week was already busier than normal, what with about 14 private lessons (two of which are wedding couples who need me to choreograph their wedding dances), and making a appearance as a guest teacher at a dance social about an hour's drive away. This past week.....WAS CRAZY! I broke a new personal record with private lessons: I had 19 lesssons! 19! And this was added on to the dance socials and group lessons I had to do! By the time Sunday came around again I hadn't had a day off in two weeks, and was so frazzled that I forgot the names of students I had known for years. My hip has decided to complain about the work conditions, and my feet now have permanent imprints from my dance shoes.
To put the icing on the cake (and my hip on strike), I went ahead and said yes to participate in a YMCA fundraiser themed around the reality show,
Dancing With The Stars
. It's happening on the 28th and the idea is that dance instructors from various organizations have to teach local celebrities, and then compete with them in front of two judges (also local celebrities). It's for YMCA charity services, and it'll be good publicity for Hartford Ballroom (where I work). My brother (another Hartford Ballroom dance teacher, btw) is dancing with the mayor of a nearby town, I was originally supposed to work with a first selectman, but he had to pull out, so I'm dancing with the event organizer. In the past two weeks, we've already practiced 4 times, adding 5 extra hours to an already busy two weeks. I've also had to spend time selecting and editing two songs (one swing and one tango), and creating choreographies to those songs that are easy enough for a new dancer to do, but cool enough to impress two judges. This is especially hard for me, since I teach social dancing, not competitive dancing, and I had to research moves for their looks, not for their practicality. I found it a lot of fun to do, but I definitely want to go on vacation after this!
On the plus side, my husband and I have a new (and awesome!) morning routine, since we barely see each other in the evening anymore. My old routine was to watch the news and blog, and Dave would fiddle around on his iPad. We would hardly talk, and then Dave would go off to work at 10:30, and I would end up watching more TV. It was starting to cause unnecessary stress, so I gave up the news and started reading my books instead. Dave and I also started going on morning walks, eating breakfast together, talking and having a good time together overall.
And here's the best part: I finally convinced Dave to start reading Harry Potter! Whoo-hoo!
I'm so ecstatic! You have no idea! We started listening to the audiobook version of
The Sorcerer's Stone
during breakfast, and Dave is enjoying it! He's actually laughing at Vernon Dursley's antics, and he's even saying "let's listen to one more chapter". *Squeeee! (hopping around with joy)* I've been begging him for years to read the books, and now he's finally doing it. I don't even care that I've already read the books this year, I'll read them again with Dave, no problem!
So anyway, despite the hectic schedule, I was still able to finish 3 books this week! Whoot!
Here are the books I read last week:
Books Read:
(Click on the cover for the review)
So this week, I'm in the middle of reading two books. I think they're going to be the only two books I'll be able to finish this week, so they're the only ones I'm planning to read. Here they are:
My Planned Reads:
(Click on the cover for the Goodreads link)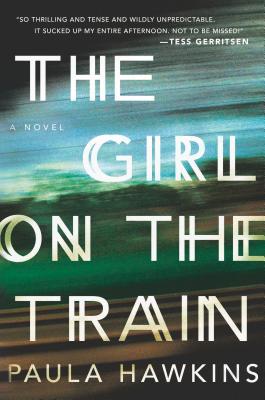 Rachel takes the same commuter train every morning. Every day she rattles down the track, flashes past a stretch of cozy suburban homes, and stops at the signal that allows her to daily watch the same couple breakfasting on their deck. She's even started to feel like she knows them. "Jess and Jason," she calls them. Their life—as she sees it—is perfect. Not unlike the life she recently lost. And then she sees something shocking. It's only a minute until the train moves on, but it's enough. Now everything's changed. Unable to keep it to herself, Rachel offers what she knows to the police, and becomes inextricably entwined in what happens next, as well as in the lives of everyone involved. Has she done more harm than good? A compulsively readable, emotionally immersive, Hitchcockian thriller that draws comparisons to Gone Girl, The Silent Wife, or Before I Go to Sleep, this is an electrifying debut embraced by readers across markets and categories.
First published in 1918, My Ántonia is the unforgettable story of an immigrant woman's life on the hardscrabble Nebraska plains. Together here with O Pioneers!, a classic American tale of pioneer life and the transformation of the frontier, this volume of Willa Cather's works captures a time, a place, and a spirit that are part of our national heritage.
Well, that's it for now! So far, I'm enjoying my week, and looking forward to a whole day off on Saturday! Happy reading everyone!
-Lisa The Dancing Bookworm