Okay, I'm a bit out of practice, so here goes....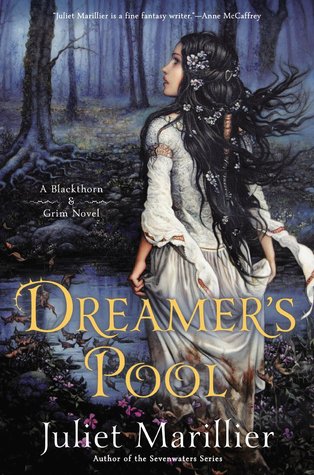 Genre: Historical fantasy
Date Published: November 2014
Publisher: Roc
Length: 434 pages, or 17 hours and 45 minutes on audiobook
Source: Audible

Goodreads | Shelfari | Audible

Synopsis: In exchange for help escaping her long and wrongful imprisonment, embittered magical healer Blackthorn has vowed to set aside her bid for vengeance against the man who destroyed all that she once held dear. Followed by a former prison mate, a silent hulk of a man named Grim, she travels north to Dalriada. There she'll live on the fringe of a mysterious forest, duty bound for seven years to assist anyone who asks for her help.
Oran, crown prince of Dalriada, has waited anxiously for the arrival of his future bride, Lady Flidais. He knows her only from a portrait and sweetly poetic correspondence that have convinced him Flidais is his destined true love. But Oran discovers letters can lie. For although his intended exactly resembles her portrait, her brutality upon arrival proves she is nothing like the sensitive woman of the letters.
With the strategic marriage imminent, Oran sees no way out of his dilemma. Word has spread that Blackthorn possesses a remarkable gift for solving knotty problems, so the prince asks her for help. To save Oran from his treacherous nuptials, Blackthorn and Grim will need all their resources: courage, ingenuity, leaps of deduction, and more than a little magic.
... for being an entertaining tale of magic, mystery, and strong intelligent women
My Thoughts:
A long, long time ago (in a galaxy far away....sorry, couldn't help myself there) I read
Daughter Of The Forest
, a very engaging retelling of a Grimm fairy tale. The story stuck with me, not only because it was beautifully written, but also because it was the first story I ever read that depicted a rape scene. It's a weird compliment, I know, but it was the story that made me feel like I was growing up and reading something more mature.
For the longest time I couldn't remember the name of the story or of it's author...
...Until a few weeks ago when someone on Goodreads mentioned one of Juliet Marillier's novels and I recognized the description of Marillier's style of writing. A quick little investigation proved me right and I discovered how many more stories of hers there were, so I decided to try another tale and this one sounded like something I'd be in the mood for.
Let's just say that after weeks of being stuck in a rut, with re-reads only partially keeping me from drowning, this book has rescued me from the jaws of a reading slump, as well as from the hypnotic qualities of TV bingeing.
Marillier's writing is about as good as I remembered it to be, and then some. I managed to finish this one on audiobook within 3 days, and the only reason it took me so long was because I kept on getting interrupted by trivial matters (like work, for example). I won't say the book is fast-paced because it really wasn't, but you don't want stop reading because you so desperately want to hang out with Blackthorn and Grim for just a little while longer.
Blackthorn is the type of strong, independent woman that you would want to depend on. Granted, her past is full of tragedy so horrific and sad, it's a wonder that she still has the will to live, but that doesn't stop her from being a fully likeable character, especially since she's so straightforward and prickly.
Prince Oran sounds like a cute nerd, and a
s for Grim..... well, let's just say that someone as quiet and as thoughtful as he is, he is a good friend to have around. So like I said, for the average bookworm, these are the kinds of people you want to hang out with.
The storyline is interesting too. It's basically a mystery with a fairy tale twist. Granted, the mystery was pretty obvious from the get-go, but it was still fun and there was still a minor plot twist that I'll kindly refrain from hinting at any further. :)
Overall I liked this story. It wasn't particularly amazing or anything, but it was still pretty enjoyable. It's apparently the start of a series, so I'll definitely be reading the next book in the series when it comes out in November. If you like Marillier's books, or historical fantasies/mysteries in general, or if you just want to read about a strong female protagonist without the romantic flair, this is the story for you!