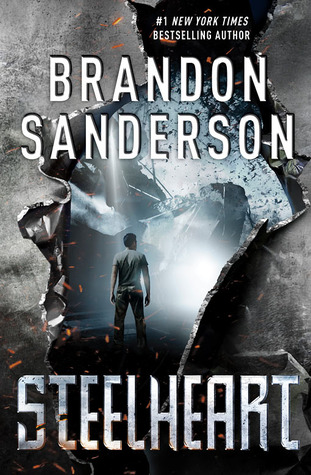 Genre: YA post-apocalyptic
Length: 386 pages

Goodreads | Shelfari

Synopsis: Ten years ago, Calamity came. It was a burst in the sky that gave ordinary men and women extraordinary powers. The awed public started calling them Epics. But Epics are no friend of man. With incredible gifts came the desire to rule. And to rule man you must crush his wills.
Nobody fights the Epics...nobody but the Reckoners. A shadowy group of ordinary humans, they spend their lives studying Epics, finding their weaknesses, and then assassinating them.
And David wants in. He wants Steelheart - the Epic who is said to be invincible. The Epic who killed David's father. For years, like the Reckoners, David's been studying, and planning - and he has something they need. Not an object, but an experience.
He's seen Steelheart bleed. And he wants revenge.
My Rating:
★★★ 1/2
....for being an entertaining, light read.
I gotta admit, I had fun with this one! It was an entertaining superhero novel, although in this case, the superheroes are the villains (really cool/interesting concept, by the way).
The plot was predictable in some places, but a little surprising in others. I knew where the author wanted to go with this book, but there were little plot twists that took me by surprise (such as Steelheart's weakness, and Prof's history. Wasn't all that surprised by Megan, though).
The lingo takes a little getting used, but it was fun to read after a while. It's not the most amazing type of originality, but the creativity that went into this novel was still pretty darn good (like I said, interesting concept), and the characters, while not particularly deep, were of the type that anyone would like.
To top things off, the book made me chuckle. David's terrible attempts at metaphors are really amusing (at first I thought it was poor writing technique, but no, it's a character quirk), and there were some funny boy-teenager situations.
All in all, this made for a entertaining YA novel. I enjoyed it enough that I'm willing to continue with the series, and check out some of Sanderson's other works as well. Basically, if you like YA distopian/post-apocalyptic fiction, this is a good, light, and fast one to read.