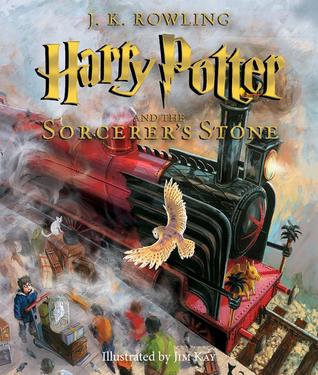 Genre: Children's Fantasy
Number of Pages: 246 pages

Goodreads | Leafmarks

Synopsis: The beloved first book of the Harry Potter series, now fully illustrated by award-winning artist Jim Kay.

For the first time, J. K. Rowling's beloved Harry Potter books will be presented in lavishly illustrated full-color editions. Rowling herself selected artist Jim Kay, whose over one hundred illustrations make this deluxe format as perfect a gift for the child being introduced to the series as for the dedicated fan.
....for always being a wonderful story, now with awesome illustrations!
So my parents got me the illustrated edition of Harry Potter for Christmas, and I of course I just had to read it!
This is very likely the book I'll be reading to my future 1.5 children, because, obviously, they are going to love reading, and they are going to love Harry Potter! I can just see myself reading this book to my little boy at bedtime and pointing out the pictures.
Hagrid's Hut!
The illustrations are really something, and not at all what I had originally expected. They are super colorful and extremely detailed. A couple of them are a little creepy, admittedly, but still, very well done!
definitely one of the creepier pictures!
What was really fun was finding little things hidden within the images. For example, I found the Deathly Hallows symbol in 3 different pictures, as well as J.K. Rowling's initials (along with a few other notables) scratched into the door frame in the picture of Hermione Granger. Seriously, these pictures are incredibly creative!
can you find the deathly hallows in this image?
If you are a Harry Potter fan, you must check this edition out! It was very enjoyable and the illustrations are beautiful. Take your time with it; you won't regret it at all!