It's a new week! And I managed to finish two books! Yay!
Here are my reviews for the two books:
The Golden One
, by Elizabeth Peters
★★★★★ and a ♥
Synopsis:
A new year, 1917, is dawning, and the Great War that ravages the world shows no sign of abating. Answering the siren call of Egypt once more, Amelia Peabody and her family arrive at their home in Luxor to learn of a new royal tomb ransacked by thieves. Soon an even more disturbing outrage concerns the intrepid clan of archaeologists: the freshly and savagely slain corpse of a thief defiling the ancient burial site.
Yet this is nothing compared with the lethal fate that threatens Ramses. Besieged by the British and defended by formidable Turkish and German forces, the fortified seaport of Gaza guards the gateway to the Holy Land. Answering a call he cannot refuse from British military intelligence, Ramses must journey to this ancient, fabled city to undertake a mission as personal as it is perilous. Death will surely be his lot if he is caught or exposed. Meanwhile, Ramses's wife, Nefret, guards a secret of her own....
Once again the incomparable and bestselling carries us to a breathtaking realm of ancient wonders and crumbling splendor -- from the hectic bustle of the Cairo markets to remote, sand-swept corners of the Egyptian desert where the gods of antiquity sleep. Returning visitors to the world of Amelia Peabody will be enthralled by the latest mesmerizing adventure from the award-winning grandmaster, and newcomers will succumb to her wiles as they are caught up in the tantalizing spell of the remarkable Elizabeth Peters and The Golden One.
In A Sentence:
Yet another good one from the Amelia Peabody Series
My Thoughts:
Of course this series is always fun, and this book is no exception. I read this book years back, and I remembered that the series started to deteriorate at around this book. So I had lowered expectations when I started reading this novel. Perhaps it was because of this lowered expectation, but I really enjoyed this installment in the series. It was split into two separate problems; one was related to tomb-robbing, the other was related to spies and World War I. I felt that the story was split and put back together nicely; it made it more interesting and action-packed, and I was able to enjoy both stories without getting bored. The story also kept a lot of the original humor that made me fall in love with Amelia Peabody in the first place.
My only issue with the story is the interactions between Sethos and Amelia. It is implied that there is something more going on, and it bothers me. I don't think it adds anything to the story; as a matter of fact, I feel it detracts from the story. But that's the only thing I really don't like about this book.
Overall, this was yet another decent read from an enjoyable series. As always, I strongly recommend you try this series.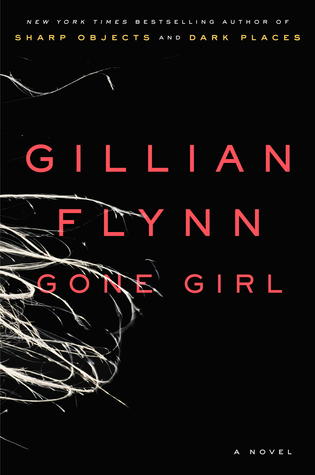 Gone Girl
, by Gillian Flynn
★★★ and ½ (rounding up to 4)
Synopsis:
On a warm summer morning in North Carthage, Missouri, it is Nick and Amy Dunne's fifth wedding anniversary. Presents are being wrapped and reservations are being made when Nick's clever and beautiful wife disappears from their rented McMansion on the Mississippi River. Husband-of-the-Year Nick isn't doing himself any favors with cringe-worthy daydreams about the slope and shape of his wife's head, but passages from Amy's diary reveal the alpha-girl perfectionist could have put anyone dangerously on edge. Under mounting pressure from the police and the media--as well as Amy's fiercely doting parents--the town golden boy parades an endless series of lies, deceits, and inappropriate behavior. Nick is oddly evasive, and he's definitely bitter--but is he really a killer?
As the cops close in, every couple in town is soon wondering how well they know the one that they love. With his twin sister, Margo, at his side, Nick stands by his innocence. Trouble is, if Nick didn't do it, where is that beautiful wife? And what was in that silvery gift box hidden in the back of her bedroom closet?
In A Sentence:
This book scares me…
My Thoughts:
So this book is effed up (excuse my language, but it really is). I spent the first half of the book feeling really depressed. I felt like I could relate to Amy; it seemed like her reactions were the same as mine would be, and I had to keep telling myself "Dave and I are happily married…Dave and I are happily married." I even felt compelled to snuggle up to my husband and ask him if he was happy with our relationship as it was. I began to feel like I wasn't going to enjoy this book after all, despite the assurances of other people claiming it was a creepy story.
….And then the second half started. And I found myself quickly going from feeling depressed to feeling absolutely disturbed. And the ending…that was the creepiest part! I refuse to spoil anything. Suffice it to say that this book holds up to all of the reviews I've read. I also refuse to say that I liked it. The book deserves a high rating; it successfully tricked me into thinking I knew the ending, and manipulated my emotions to the point that I needed comfort from my husband. But I can't like the story; it's disturbing, and depressing, and now that I've finished it, I still need my husband to hold me and say that everything is all right.
So on that note, this is a good, dark psychological thriller. I will not ruin the experience for you by explaining why, I only say that if you like dark novels, then you should definitely read this. And do not give up reading the book if the first 200 pages turns you off; trust me, the first half is a setup. It's the second half that will keep you glued to the book.