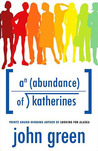 An Abundance of Katherines
by
John Green
My rating:
3 of 5 stars
An Abundance Of Katherines
, by John Green
★★★
Synopsis:
When it comes to relationships, Colin Singleton's type happens to be girls named Katherine. And when it comes to girls named Katherine, Colin is always getting dumped. Nineteen times, to be exact. He's also a washed up child prodigy with ten thousand dollars in his pocket, a passion for anagrams, and an overweight, Judge Judy-obsessed best friend. Colin's on a mission to prove The Theorem of Underlying Katherine Predictability, which will predict the future of all relationships, transform him from a fading prodigy into a true genius, and finally win him the girl. Letting expectations go and allowing love in at the heart of Colin's hilarious quest to find his missing piece and avenge dumpees everywhere.
In A Sentence:
Fun, but
The Fault In Our Stars
was better
My Thoughts:
Well, this got me interested in math again!
This was a fun novel in general. The relationship between Lindsey, Hassan, and Colin was entertaining and fun to read, and there were certainly some hilarious dialogue and scenarios. The math was intriguing as well; this is one of those rare instances where I actually enjoyed reading the appendix (Daniel Bliss made me chuckle a couple of times).
This isn't John Green's best work, however. Personally, I thought
The Fault In Our Stars
was considerably better than
An Abundance Of Katherines
, mainly because the former made me cry a lot and the latter only got a few chuckles. I have a suspicion that John Green is one of those authors who improves with each book he/she publishes.
That doesn't mean this book isn't worth a look however, no sir. This story is entertaining, sweet, and light-hearted, and I would say that if you're a John Green fan, you would probably enjoy this read. Make sure you read the Appendix in the end; it explains the math in the story.
View all my reviews