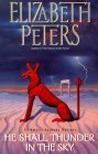 He Shall Thunder in the Sky
by
Elizabeth Peters
My rating:
4 of 5 stars
He Shall Thunder In The Sky
, by Elizabeth Peters
★ ★ ★ ★ ★ and a ♥
Synopsis:
Egypt and her hoary secrets are no match for New York Times-bestselling Grandmaster Elizabeth Peters and her indomitable archaeologist sleuth Amelia Peabody. The sand-and-wind blown ambience of this strange and colorful world, the ancient enchantments and delicious menace are more vibrantly realized than ever in this thrilling new adventure that places the intrepid Amelia and her equally remarkable family in the dangerous path of an onrushing World War.
The pursuit of knowledge must never be deterred by Man's folly. So the close of 1914 finds Amelia Peabody and her husband Radcliffe Emerson back in Egypt for another season of archaeological excavation--despite the increasing danger of an attack on the Suez Canal and on Egypt itself. Trouble is brewing in Cairo and the defiantly pacifist stance of Amelia and Emerson's headstrong son Ramses is earning the young man the derision, and much worse, of the British expatriate community. Meanwhile, the charismatic nationalist el Wardani is said to be fomenting insurrection in the ancient city. And since there is no way to stand outside the political hurricane that is suddenly threatening their lives, Amelia plunges directly into it.
When el Wardani escapes a police dragnet, thanks to the direct intervention of Amelia and Emerson, the family's stake in a perilous game is raised considerably. But it's Ramses' strange secret role in it that could truly bring ruin down upon all their heads. However, there is more than intrigue and espionage, plots and counterplots, at work here. For an artifact uncovered at a Giza dig--an exquisite sculpture found where it ought not to be confirms Amelia's most unsettling suspicion: that the chaos consuming Cairo has masked the nefarious re-emergence of Amelia's villainous archnemesis, Sethos, the Master Criminal.
The extraordinary Elizabeth Peters raises exotic intrigue to a new level with He Shall Thunder in the Sky. If you have never before experienced Amelia and her singular clan, prepare to be enthralled by the droll wit, the richly evoked locale, and a story that twists sensuously and mysteriously like an asp writhing beneath the desert sun. And longtime devotees will relish the return of dear friends--and await the resolution of a love affair that may change the Emersons' destiny forever.
In A Sentence:
It got a little mushy at the end, but I still love it!
My Thoughts:
Personally, I think the series begins to go on a downhill spiral starting with this book. I still love this series as a whole (hence the five stars), but this book definitely takes a melodramatic turn. I think in general this book was very good, but the scenes with Sethos were a bit ridiculous and overdone. The climatic ending definitely could have been better without Sethos stealing the show.
Beyond that however, I really enjoyed this read. I love reading about Ramses as an adult. Nefret's behavior has irritated me in the previous novels, particularly in
The Falcon At The Portal
, but I feel she has redeemed herself in this book. The overall story is pretty exciting. Elizabeth Peters does very well in creating Indiana Jones-esque adventures, which always makes for an entertaining read. Add to that the clever humor of both Amelia and her son Ramses, and you have a great novel.
Overall, I would certainly recommend this book. After this one, however, the series starts to become less interesting. They're still fun reads, but if you want to stop at a certain point before the books get tiresome, I would say that you stop at this one.
View all my reviews