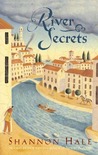 River Secrets
by
Shannon Hale
My rating:
5 of 5 stars
River Secrets (Books of Bayern #3)
, by Shannon Hale
★★★★ ½ (rounding up to 5)
Synopsis:
Razo has no idea why he was chosen to be a soldier. He can barely swing a sword, and his brothers are forever wrestling him to the ground. Razo is sure it's out of pity that his captain asks him to join an elite mission--escorting the ambassador into Tira, Bayern's great enemy. But when the Bayern arrive in the strange southern country, Razo discovers the first dead body. He befriends both the high and low born, people who can perhaps provide them with vital information. And Razo is the one who must embrace his own talents in order to get the Bayern soldiers home again, alive. Newbery–Honor winner Shannon Hale returns the reader to the intrigue and magic of Bayern, first introduced in her critically acclaimed novel, The Goose Girl . Enter a world where even those with no special magical skills find in themselves something they never imagined
In A Sentence:
An adorable read that makes you chuckle out loud.
My Thoughts:
I'm really enjoying this series! I might not be ranking these books super high, but this might turn into a favorite series when I read them again (and yes, I will one day read these books again). I certainly tempted to buy hard copies and add them to my shelf.
One of my favorite things about this series is that it's about a group of close friends, two of which are rulers of the country, and each book follows one of these friends, while at the same time keeping track of the rest of the group. The first book followed Princess Ani (a.k.a. "Izy"), the second followed her best friend Enna, and this third installment followed the group's clown, Razo.
I already loved Razo after the first couple of books, but I love him even more now. He's the type of character you really want to succeed. He' the guy you want to cheer on; you love every success and you boo every failure. To top it off, Razo is a goofy kind of guy, so he's constantly making you chuckle with all of his antics. He reminds me strongly of the anime character Sokka, from the TV show
Avatar: The Last Airbender
. If you loved Sokka, then you'll love Razo!
The humor is definitely what sets this book apart from the others in the series. The adventure has a lighter feel to it, and is therefore more enjoyable than
Enna Burning
. Because of the previous two books, we have a general idea of what the author is going to do, so the story ends up being very predictable, but still a lot of fun. The writing style mimics Razo in a way that made me laugh and want to read more, and the plot's pace stayed nice and steady the entire time.
Once again, I listened to this via audiobook and I strongly recommend that people listen to it too. It is definitely a very enjoyable audiobook, and YA fantasy would absolutely love it. It's yet another great read by an excellent author. Go ahead and add this book to your TBR and enjoy!
View all my reviews