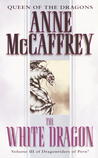 The White Dragon
by
Anne McCaffrey
My rating:
4 of 5 stars
☊
The White Dragon
, by Anne McCaffrey
★★★ and 1/2
Synopsis:
Never had there been as close a bonding as the one that existed between the daring and adventurous young Lord Jaxom and his extraordinary white dragon, Ruth. Pure white and incredibly agile, Ruth was a dragon of many talents, though almost everyone on Pern thought he was a runt that would never amount to anything.
But Jaxom knew better, knew he could teach his dragon to fly and to destroy the deadly silver Threads that fell from the sky. Disobeying all rules, Jaxom and Ruth trained in secret. Their illicit flights seemed but a minor disobedience - until they found themselves in the path of danger and in a position to prevent the biggest disaster of all!
In A Sentence:
not as good as the first two, but still enjoyable
My Thoughts:
This book was fun, no doubt about it. You follow a new bunch of likeable characters, while still reading about the characters you already know and love. It's a good story with the occasional humor thrown in. Plus, you have to love Ruth, the white dragon of Pern.
The story wasn't 100% great, however. After the initial crisis, the story kind of drags out a little bit. Well, a lot. Instead of one big crisis, it's more of a bunch of little ones, with a weak climax and conclusion. That doesn't mean that the book is dull, however. You still want to read about what happens next, and you still want things to end happily
Overall:
It's not the best in the series, but it was still a fun audiobook. I won't continue the series for a little while, however. If the other books are like this one, then I'll probably start getting bored with the whole thing.
View all my reviews