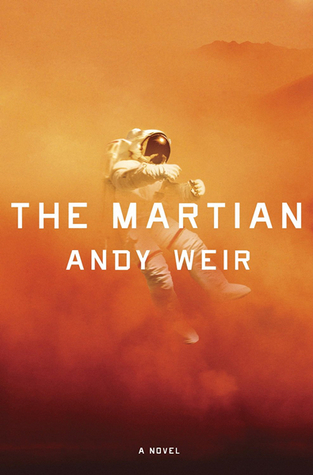 Title: The Martian
Author: Andy Weir
Date Published: February 11, 2014
Publisher: Crown
Source: Audible
Length: 384 pages, or 10 hours and 53 minutes of listening time
Genre: Sci-fi thriller
Goodreads
|
Shelfari
|
Audible
Six days ago, astronaut Mark Watney became one of the first men to walk on the surface of Mars. Now, he's sure he'll be the first man to die there. It started with the dust storm that holed his suit and nearly killed him, and that forced his crew to leave him behind, sure he was already dead. Now he's stranded millions of miles from the nearest human being, with no way to even signal Earth that he's alive--and even if he could get word out, his food would be gone years before a rescue mission could arrive. Chances are, though, he won't have time to starve to death. The damaged machinery, unforgiving environment, or plain-old "human error" are much more likely to get him first. But Mark isn't ready to give up yet. Drawing on his ingenuity, his engineering skills--and a relentless, dogged refusal to quit--he steadfastly confronts one seemingly insurmountable obstacle after the next. But will his resourcefulness be enough to overcome the impossible odds against him?
Oh Wow! This book was amazing! I absolutely loved it the entire time! I'm so glad I decided to pick it up!
I listened to this on audiobook, which I would strongly recommend, by the way. There was only one part where sentences had to be spelled out letter-by-letter that I found distracting and irritating, but otherwise I really enjoyed the narrator. Definitely listen to the audiobook.
There's so much going for this book: the science, the plot, the characters, the humor... all of it meshed together into a cohesive whole that made me wish I didn't have to sleep or go to work.
Let's start with the science. I have a whole lot of respect for the amount of research that went into this novel, and apparently it's pretty accurate. Not only did Andy Weir have to figure out the science to make this life on Mars and in space sound realistic and plausible, but he had write it in a way that readers would both understand and find interesting. I think he succeeded beautifully with this novel, even more so than Michael Crichton with
Jurassic Park
. Reading this book made me feel like a geeky science nerd, and I loved it!
What definitely helped make the science interesting was the humor of the novel's protagonist, Mark Watney. Watney is a good-natured character that everyone can relate to and like. His funny one-liners broke the tension and the monotony of the science that Mark had to talk about. And the humor was perfect for this type of novel, too! I love one-liners like the ones in this book; it's my style of humor so I found it very satisfying in this read. To top it off, the jokes weren't overdone, but they were enough to keep things light and interesting, despite the desperate, and possibly depressing, situation Mark was in. I kept cracking up at random moments throughout the day, which doesn't help when you're listening to the audiobook with the earphones plugged in...in public and in broad daylight.
The characters were perfect for the book as well. Some stories require strong character development, while others need more flat characters with only a little character development. This one would have been bogged down with heavy, psychological depth, so the fact that each character had only one strong characteristic was excellent. Mark Watney was the good-natured, Mythbusters-type of guy with good sense of humor, and each member of the 6-man crew had a certain quality about them that stood out, but nothing that really dived deep into their psychology and flaws. Because of this, The Martian felt more like an action novel, and less like a boring science novel.
The plot was also well done. It was very evenly paced. Slow parts that discussed Mark's problem-solving deductions were broken up with humor, and then were frequently followed by a suspenseful event that kept you hanging desperately on to every word. I really didn't feel bored at all when I read this book. I kept on getting annoyed when I had to stop listening to it!
Without a doubt, this novel is awesome! For myself, I loved it, so I give this book:
While listening to this novel, I was strongly reminded of the movie Apollo 13 with Tom Hanks. The situations are similarly desperate, with problem-solving happening on both sides (in space and back on Earth), and unexpected, yet thrilling, crises happening sporadically throughout. I would say if you loved Apollo 13, you would most certainly love this book! It's science fiction that sounds realistic and plausible, with characters you can like, humor that will crack you up, and a plot that will keep you on the edge of your seat. I would strongly recommend this read. It's an excellent novel that deserves a whole bunch of praise! Enjoy!