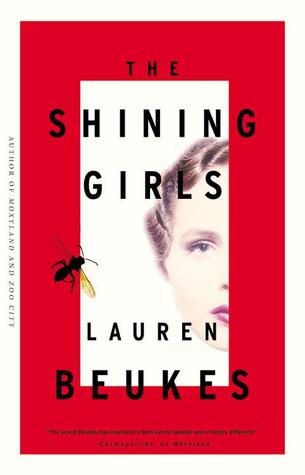 Genre: Thriller
Number Of Pages/Listening Time: 374 pages/ 10 hours and 33 minutes

Goodreads | Audible

Synopsis: "The future is not as loud as war, but it is relentless. It has a terrible fury all its own."
Harper Curtis is a killer who stepped out of the past. Kirby Mazrachi is the girl who was never meant to have a future.
Kirby is the last shining girl, one of the bright young women burning with potential whose lives Harper is destined to snuff out after he stumbles on a House in Depression-era Chicago that opens onto other times.
At the urging of the House, Harper inserts himself into the lives of the shining girls, waiting for the perfect moment to strike. He's the ultimate hunter, vanishing into another time after each murder, untraceable--until one of his victims survives.
Determined to bring her would-be killer to justice, Kirby joins the Chicago Sun-Times to work with the ex-homicide reporter Dan Velasquez, who covered her case. Soon Kirby finds herself closing in on the impossible truth...
The Shining Girls is a masterful twist on the serial killer tale: a violent quantum leap featuring a memorable and appealing heroine in pursuit of a deadly criminal.
....For being interesting and different.
Huh.
That about sums it up. Huh. Like drinking a beer that you're sure you're not going to like that much, and then realizing that it's really not that bad after all.
It was the ending that did it. I was fully prepared to rate this 3 stars only; the book was okay with an intriguing concept, but not all that remarkable. Yet the end bumped my rating up half a star, creating a full circle that I wasn't really expecting. I mean, I knew what was going to happen, but there was a little twist there that I did not anticipate. After thinking about it a little, it makes a strange sort of sense, and I find that I have no follow-up questions to ask. The book is complete.
Overall, the story was decent. Not great, but good enough. The writing style tries a little too hard sometimes, and the plot structure takes some getting used to, what with all the jumping around, but, like I said, it's an intriguing concept for a thriller, and it does keep your attention and interest until its satisfying conclusion.
I should warn future readers that the violence is rather graphic at times, enough to make you cringe and squirm while you read. The murder scenes were gruesome enough that I had to look away and hope it would be over soon. Definitely rated R.
If the violence doesn't turn you away, however, and you're interested in a serial-killer type of thriller with a twist, then I'd give this story a look. It certainly deserves the buzz it's been getting, and it's a quick-enough read that it doesn't require a huge commitment from the reader. A worthy story.