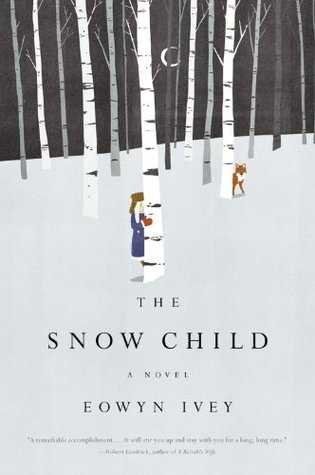 Genre: historical fiction/magical realism/fairy tale retelling
Date Published: 2012
Publisher: Back Bay Books
Number Of Pages: 390 pgs

Goodreads

Synopsis: Alaska, 1920: a brutal place to homestead and especially tough for recent arrivals Jack and Mabel. Childless, they are drifting apart--he breaking under the weight of the work of the farm, she crumbling from loneliness and despair. In a moment of levity during the season's first snowfall, they build a child out of snow. The next morning, the snow child is gone--but they glimpse a young, blonde-haired girl running through the trees.
This little girl, who calls herself Faina, seems to be a child of the woods. She hunts with a red fox at her side, skims lightly across the snow, and somehow survives alone in the Alaskan wilderness. As Jack and Mabel struggle to understand this child who could have stepped from the pages of a fairy tale, they come to love her as their own daughter. But in this beautiful, violent place things are rarely as they appear, and what they eventually learn about Faina will transform all of them.


★★★★★
...for being such a beautiful, sad read that made me cry.
It's official, this has become a favorite. And I found that actually reading this in print was a better experience than listening to it on audiobook. There's something about the flow of the writing that just grabs at you and won't let go. Overall, the best way to describe this story is that it's hauntingly beautiful. It's sad yet bittersweet, mournful yet elegant. It's a tale of grief, change, love, and acceptance. It's a story with strong female characters and a unforgettable writing style. This is definitely an ideal book for book clubs and anyone who loves fictional stories with a hint of magical realism. Highly recommended.