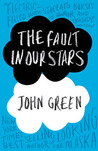 The Fault in Our Stars
by
John Green
My rating:
5 of 5 stars
The Fault In Our Stars
, by John Green
★★★★★ (and a ♥ contender)
Synopsis:
Despite the tumor-shrinking medical miracle that has bought her a few years, Hazel has never been anything but terminal, her final chapter inscribed upon diagnosis. But when a gorgeous plot twist named Augustus Waters suddenly appears at Cancer Kid Support Group, Hazel's story is about to be completely rewritten.
In A Sentence:
An absolute heart-wrencher of story, tissues must be purchased before reading this novel
A Dollar's Worth of My Thoughts:
so I kept seeing rave reviews posted everywhere, and some of my book groups have made this the book of the month, so I figured "oh what the heck, let's read yet another popular book and see what happens". So I read it….
….And then the tears came. Oh my God, I can't remember if a book ever made me cry quite this hard. I finished the last sentence and I start sobbing hysterically and blubbering at my cat who's sitting there watching me and wondering why I sound so weird.
Man, this book was such a tear-jerker. There are many ways that a writer can be a talented writer, and one of those ways is a certain ability to manipulate the emotions of their audience using only words. And John Green is a very…talented…writer. I mean, terminal cancer is already a heartbreaking topic, but while an inexperienced writer will only make you think, "ah, well, that's kinda sad", an excellent writer will make you think "WHY GOD! WHY?!!!!!!!"
The whole thing was very well done, in my opinion; plot, premise, everything. I know some people thought some things seemed a little too convenient (Amsterdam), but I didn't think so. I thought it worked great. The love story is also rather sweet; it's certainly acceptable to adults who are prone to nausea and vomiting when reading sappy YA romances. The characters are
extremely
loveable and relatable, every single one of them (yes, even Peter Van Houten, in a really weird asshole kind of way). And finally, the storyline, along with the writing, was really well done; I've never had to experience watching a loved one go through cancer, but after reading this book, I felt like I just did.
Overall, this was an excellent read, for teenagers and adults alike. If you haven't read it yet, then you definitely should. Just make sure you have a box of tissues on hand. Side effects of reading this novel include: weeping, runny nose, sniffling, and uncontrollable sobbing into the shoulder of your bemused spouse.
View all my reviews