Hellllooo Monday!
It's time for
Book Journey
's weekly meme, where we discuss what we've posted last week, and what our reading plans are for this week.
Today, it's raining (boooo!), but I only have one private lesson before I have to teach my beginner group classes. I should mention that on Mondays, I'm normally at the dance studio from 3:30-9:45 p.m., and sometimes I have to come in at around noon, so the fact that I don't have to go in until 5:30 is a pleasant surprise. More time for reading (yay!).
So, I've been posting on time for everything but my Favorites Spotlight. Sadly, I think I chose a series that's a little difficult to write about for the Favorites Spotlight (praising
Lord Of The Rings
while trying to sound like you know what you're talking about is hard!).
Here's a list of posts done this week:
Tuesday's Opinion: What I Think About Books Being Made Into Movies
Feature And Follow Friday
Looking at the list, it appears depressingly short. *sigh* I really don't have a whole lot of time to blog, although I wish I did.
I did manage to finish a couple of books however. Here's the list of books read:
Enna Burning, by Shannon Hale
The Titan's Curse, by Rick Riordan
Once again, a depressingly short list! I need to amp up my game! Ah well, maybe I'll do better during the Thanksgiving Weekend.
Here's my reading list for the remainder of the month: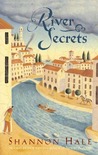 River Secrets, by Shannon Hale (reading now)
Forest Born, by Shannon Hale
Battle Of The Labyrinth, by Rick Riordan (reading now)
The Last Olympian, by Rick Riordan
The Magician's Land, by Lev Grossman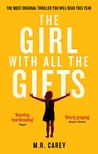 The Girl With All The Gifts, by M.R. Carey
Well, that's it for now. Happy reading everyone!
-Lisa The Dancing Bookworm